Hyperloop Bratislava Station
HTT signed an agreement with the government of Slovakia in March 2016 to perform impact studies, with potential links between Bratislava, Vienna and Budapest. The preliminary design of Bratislava Hlavná Stanica (central train station) with the integration of the new Hyperloop "passing through" station is part of thesis project of the Master in Smart Buildings and Sustainable Design at Istituto Europeo di Design in Turin. In collaboration with: ARUP, Hyperloop Transportation Technologies, Co-de-iT.
The Hyperloop concept operates by sending specially designed "capsules" or "pods" through a continuous steel tube maintained at a partial vacuum. Each capsule floats on a 0.5-to-1.3-millimetre (0.02 to 0.05 in) layer of air provided under pressure to air-caster "skis", similar to how pucks are suspended in an air hockey table, thus avoiding the use of maglev while still allowing for speeds that wheels cannot sustain. Linear induction motors located along the tube would accelerate and decelerate the capsule to the appropriate speed for each section of the tube route.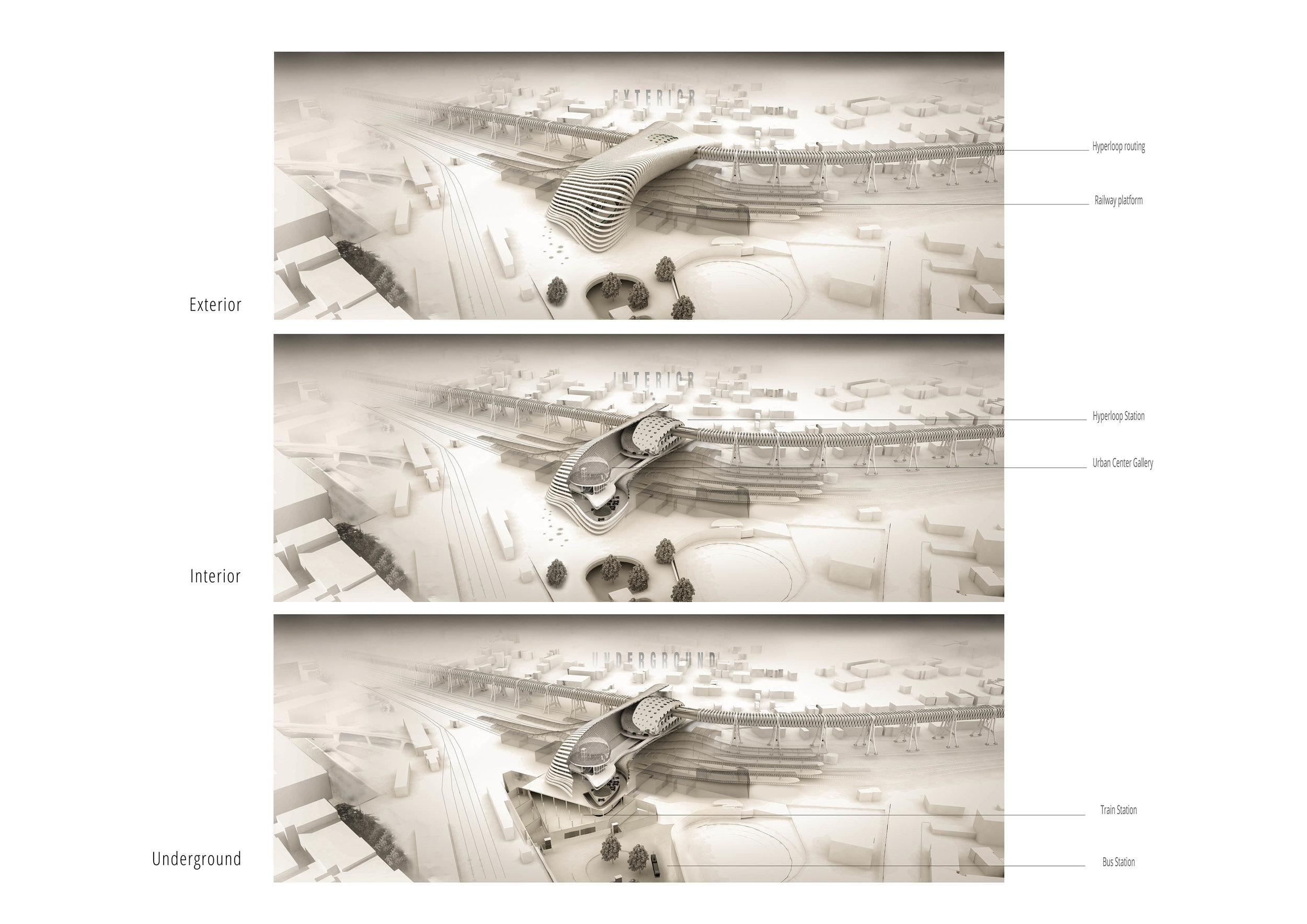 The location of the Hyperloop stations is key: they will become a hub that connects the Hyperloop with local subways, bus, taxi, bike and car sharing. The implementation of good connections starts from the identification of site specific constraints and opportunity and analysis of existing conditions. Factors to be considered are distances between stations and car/bike sharing stations, high speed roads, bike routes and key location, but also land use in terms of density and functions that can be reached.
Unlike an airport and existing station experience that includes shopping and restaurants to fulfill the waiting time, Hyperloop stations, in which the travelers will have no waiting time, will be very straight through without frills. The user experience is very similar to the one of modern ski-lifts: arrive to the station, walk through a fast and smart security system and ticket control, get to the boarding platformm in-board the capsule, and leave. All the process should take less than 5 minutes.